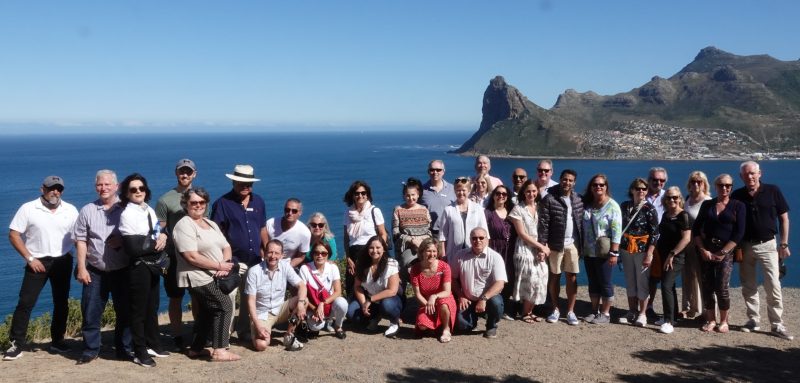 Reunion # 13, now forevermore known as Reunion-19, is over and all we're left with is the afterglow. The cloud of COVID19 hung over us throughout the reunion, but the sun shone through, literally and figuratively, every day we were there. Just as the sun was about to set during our evening cruise in Cape Town Harbor, it peeked out between the clouds and the horizon giving us a stunning sunset as we danced to the old tunes on the boat.
We Are Bent, But We Are Not Broken
Greetings, Fellow FoB Alumni: To quote a line from that famous 1969 CSNY song, 'the darkest hour is always just before the dawn'. In these dark days we look for a ray of hope, and it is with that sentiment that the FoB alumni committee met last week to discuss the future.
We talked of the great risk many of us took almost a year ago to attend the South Africa reunion, and we marveled at the fact that we left South Africa unscathed by COVID19. Looking back at it, we had a hell of a good time thanks to our superb hostess, Sharon. For many of us who attended that reunion, the memories of that wonderful time together sustained us through the darkest weeks and months that followed.
We unanimously agreed that our planned Vancouver reunion this September needs to be postponed by a year due to COVID19. But we also agreed that it is not fair to postpone joy — and face it, we're not getting any younger — so we decided on a possible gathering in Switzerland in March of 2022, about a year from now. By then, most if not all of us will have been vaccinated, and we can safely hug each other without fear.
The Swiss get-together would be less formal. It may merely be that we set the dates and where to meet. There will be no formal program and everyone will book their own travel and hotel. Once there, we will decide what to do besides hugging and spending time together.
So, two reunions instead of one in 2022 for twice the fun. Are you ready?
Dear friends, COVID19 has bent us but we are not broken. We have each other to rely on during these dark times, and we have the ray of hope that we will meet again, perhaps with a vengeance to make up for time lost due to this pandemic. We pray that we and our loved ones remain safe, with a new appreciation of the simpler things in life – good friendships, good health and good memories.
Please let us know your thoughts on the proposed next reunions by emailing us at reunion@friendsofbluche.com or to Sharon Baumann at sjbaumann21@gmail.com.
Sincerely, The FoB Alumni Committee
Sharon Taylor Baumann, Mikael Bengtson, Tom Ventser, Katy Jackson Cantor, Pradeep Kapadia, Thierry Coche and Alfie Eu
Feel free to contact us if you have any questions!