Reunion 2023 in Stockholm, June 28 to July 3 with optional extension until July 8
Annie and Mikael Bengtson invite you to visit Sweden and the cities Stockholm and Uppsala for the next reunion.
The dates are set, but it can still be minor changes in the agenda. We hope you will plan to join us. The registration for the different activities will open soon, meanwhile you can book your airline tickets according to this schedule:
1. Arrive in Stockholm before 6 PM on Wednesday, June 28.
2. Depart from Stockholm after 3 PM on Monday, July 3.
3. If you plan to join the extended reunion to the north of Sweden, book departure from Stockholm anytime on Saturday, July 8.
Below is the itinerary for the reunion together with the costs. Please note that when the registration opens, you will be charged in the Swedish currency and the actual cost may differ according to the current exchange rate.
Wednesday June 28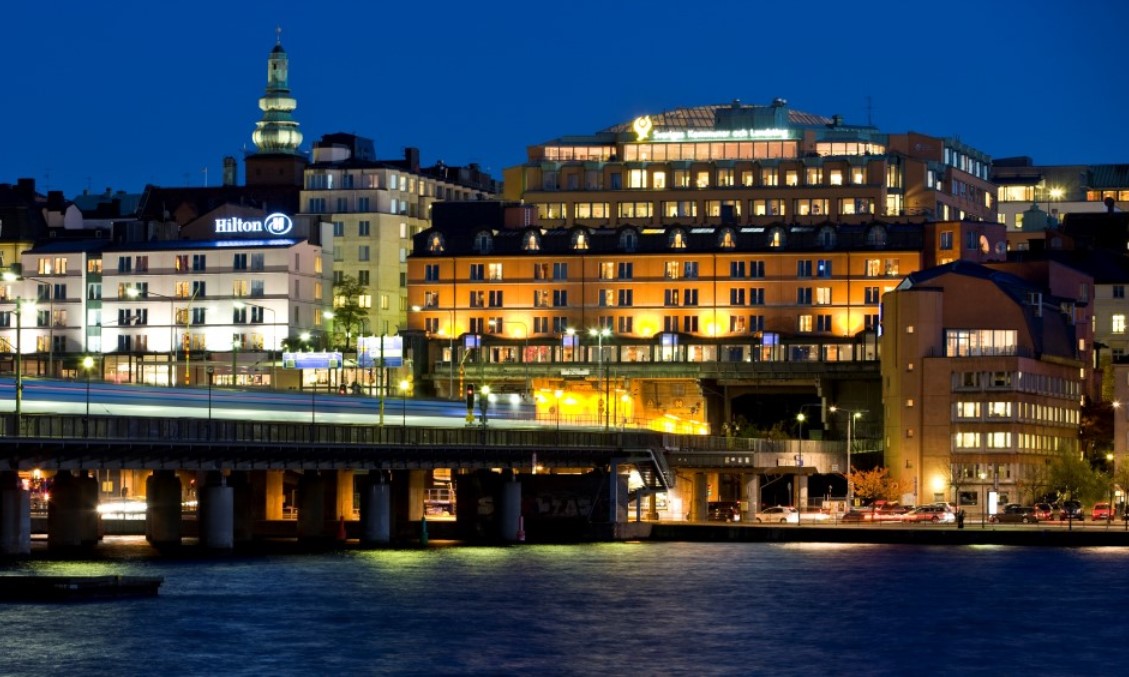 Welcome Reception
We meet at the hotel Hilton Stockholm Slussen at 6 PM for a Welcome Reception. The hotel is very nicely situated by the water. Just like in Vancouver last year, there is a lot of water surrounding Stockholm and it is sometimes called "Venice of the north".
We will soon have a booking code so that you can book a room at Hilton yourself. The charge for a double room overlooking the water will be $260 and for a single occupancy $245.
The Welcome Reception will be a get together between 6 PM and 11 PM. A buffet from 7 to 9 PM with hot and cold dishes will be included as well as two drinks. More drinks can be bought from the bar. We will be sitting in a private area of the restaurant at the hotel.
Cost for Welcome Reception: $70
Thursday June 29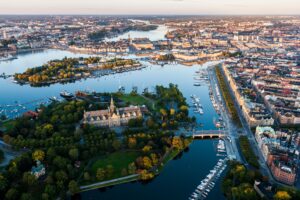 Ferry to Djurgården
We leave the hotel at 9 AM for a 10 minute walk to the ferry that will take us to a place called Djurgården, an island in the center of Stockholm with open areas, museums, restaurants and an amusement park.
The name literally means "Animal garden" and there is actually a zoo called Skansen with moose, lynx, reindeer and other Swedish wildlife along with old buildings that have been moved there from different parts of Sweden.
We don't plan to visit Skansen, but you can of course do it on your free time if you like.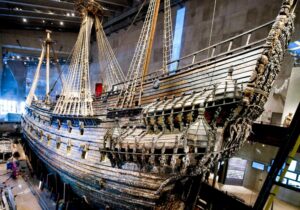 Vasa Museum
Once at Djurgården we will head for the famous Vasa Museum. It is built around an old warship that sank on it's maiden voyage in 1628, just after having left the dock. They had built it too high and it became unstable and tipped over and sank.
In the 1960's they lifted it up from the bottom of the sea and moved it to the museum. It is an impressive sight, 69 meter long and 25 meter tall excluding the masts.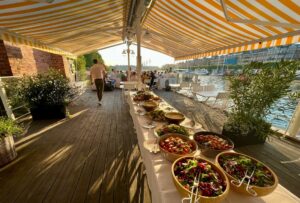 Lunch at Djurgårdsbron
After the ship Vasa, we'll take a 5 minute walk to the restaurant Djurgårdsbron for lunch. If the weather is nice, we can sit outside by the water. We get to choose between meat, fish and a vegetarian dish.

ABBA The Museum
Also at Djurgården is the ABBA museum that tells the story of the Swedish pop group ABBA. After the lunch we'll spend some time looking at and reading about their history.
If you're in for it, you can sing along with ABBA on a screen behind you.
Cost for ferry, museums and lunch: $90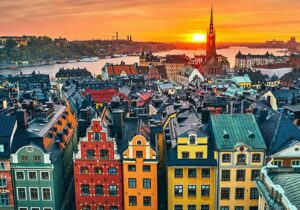 Free time
When you are tired of singing, the rest of the day is free time. We suggest you take a 30 minute walk to the Old Town or take the same ferry back as we arrived on.
A walk through the Old Town of Stockholm and back to the hotel is a nice walk that will take about 30 minutes. On your way you'll pass small shops with things to bring back home and you'll also walk by the Royal Castle. The king and queen lives in another castle just outside of Stockholm, so it is unlikely you'll see them.
Evening is also free for dinner plans and other things you want to do in smaller groups or by yourself.
Friday June 30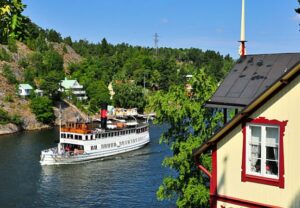 Archipelago tour
The entire day will be spent on a boat going island hopping in the archipelago of Stockholm. We will leave the hotel at 8:30 AM for a 30 minute walk to the boat. Onboard we will have lunch, Swedish fika (a coffee break with pastry) in the afternoon and then finish with dinner onboard.
During the day we will pass under bridges, through narrow passages between islands and over open water. We will also make three stops to visit some of the islands. It's a very nice trip with plenty of time to see the beauty of the archipelago as well as spending time together.
We will be back at the hotel around 9 PM or you can stop downtown to explore the night life of Stockholm.
Cost for boat trip and meals: $200
Saturday July 1

Uppsala
After breakfast and checking out of the hotel, we'll leave at 9 AM by bus to the old university town of Uppsala. Our tour guide for the day will be Hans Odöö and the theme for the guiding is "True or false". He will tell us several amazing anecdotes from the history of Uppsala. All are true, except one. Your task is to reveal which one is a lie.
We will make a break for lunch at the Castle of Uppsala that dates back to the 16th century. After lunch you can choose to stay in the centre of Uppsala for some free time. Talk to Hans if you want to see anything special or just stroll along for some sightseeing or shopping.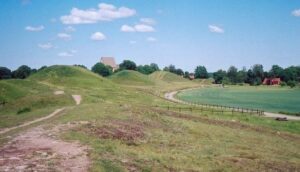 Gamla Upsala
If you choose to go with the bus instead, you will visit Old Upsala (Gamla Upsala), a place filled with history from the Viking age. Our guide Hans will be with us there too.
At 4:30 PM the bus will take us to Ekhamn and the soirée.
Cost for bus, guided tours and lunch: $100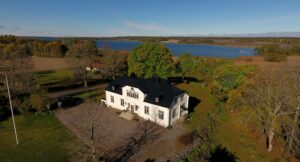 Ekhamn
Outside the small town of Knivsta, is the mansion Ekhamn built in 1626. It is owned by Annie and Mikael with family. The mansion is nowadays rented out for weddings, birthday parties and family reunions.
This is where the soirée will be in the evening. With dinner and dancing under the bright summer skies on the veranda. There will be live music as well as Spotify with songs that brings back memories.
Cost for the soirée: $120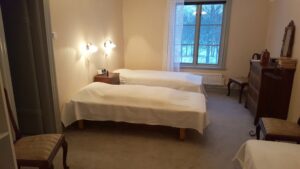 Staying overnight at Ekhamn
There are 17 bedrooms in the main building and nearby houses, with 2 to 4 beds in each. Depending on how the rooms are used, up to 50 people can stay overnight at Ekhamn on Saturday and Sunday. Please note that this is not a hotel, but more like a hostel with shared bathrooms.
If you prefer a regular hotel, there are several of them in Sigtuna that are just 15 minutes away by cab or rental car. Price range from $250 to $350 per room and night.
Cost for staying two nights at Ekhamn: $100
Sunday July 2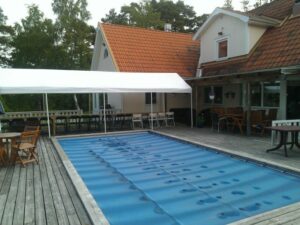 Picnic
You would probably like to sleep in on Sunday morning and after a morning coffee we will take a 20 minute Promenade Obligatoire over to Annie and Mikael's house.
A brunch in the form of a picnic will be served in their garden.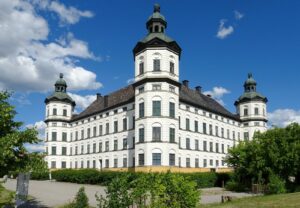 Skokloster Castle
After the brunch, the bus will pick us up and go to Skokloster Castle where we will get a guided tour of the 17th century castle. Is was built as the largest private palace in Sweden and has been privately owned until 1967 when it was sold to the Swedish government.
After the tour, we will have some Swedish fika at the café in the castle.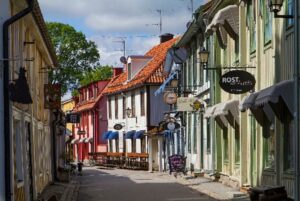 Sigtuna
The bus will then take us to one of Sweden's oldest towns – Sigtuna. We walk through the narrow streets and will learn how Sigtuna became an important place in the history of Sweden.
The bus will then take us back to Ekhamn.
Cost for brunch, buses, guided tour and Swedish fika: $90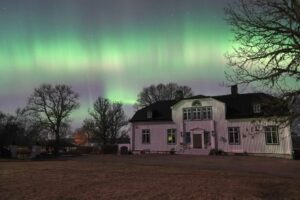 Farewell dinner
Back at Ekhamn we prepare for the farewell dinner. Unfortunately you will not be able to see the northern lights in the middle of the summer, only the lights from the barbecues when we grill something in the garden.
After the farewell dinner we stay up talking until late. Making plans for the next reunion or for the next casual meeting with fellow alumni.
Cost for Farewell dinner: $60
Monday July 3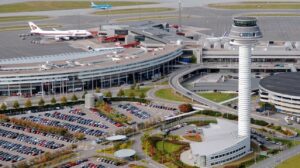 End of reunion
After a breakfast and meeting about where and when to have the next reunion, this reunion ends. A bus will take you to Arlanda or Stockholm depending on if you're leaving or wants to stay a few more days.
Cost for bus: $20
Total cost if you attend all activities: $750 (excluding hotels and airline tickets)
Monday July 3 until Friday July 7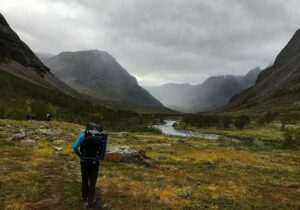 Extended reunion
But it doesn't have to end just yet. For those of us who want to go hiking and/or see the midnight sun, we are planning a trip to Abisko in the very north of Sweden for 4 days.
Besides hiking and the midnight sun we can visit the north of Norway and the Atlantic coast. Maybe we get to spend a night in the world famous Ice Hotel north of the Polar Circle.
But the extended part of the reunion is going to be planned together with you. So let us know if you are interested and what you want to do!
If you are interested in going to this reunion, let us know by sending an email to reunion@friendsofbluche.com. Just to give us an idea of how many we can expect.
Sincerely, The Reunion Committee
Annie and Mikael Bengtson, Susan Reaper, Sharon Taylor Baumann, Tom Ventser, Katy Jackson Cantor, Pradeep Kapadia and Thierry Coche