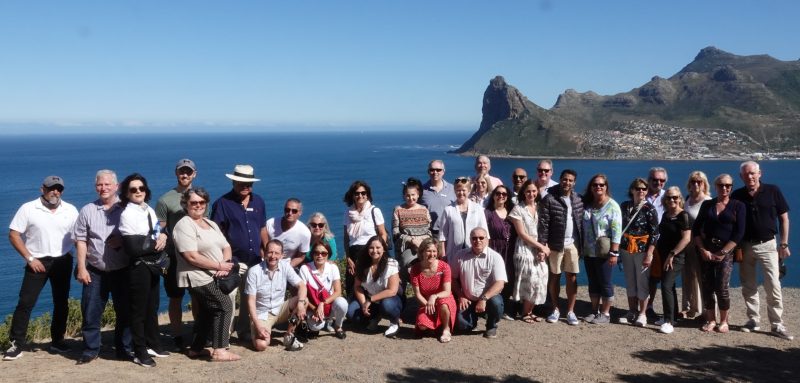 Reunion # 13, now forevermore known as Reunion-19, is over and all we're left with is the afterglow. The cloud of COVID19 hung over us throughout the reunion, but the sun shone through, literally and figuratively, every day we were there. Just as the sun was about to set during our evening cruise in Cape Town Harbor, it peeked out between the clouds and the horizon giving us a stunning sunset as we danced to the old tunes on the boat.
September 8 – 12, 2022 in Vancouver, Canada
With the determination of salmon swimming upstream to spawn, our FOB group will reunite for the fourteenth time, hosted by Susan York in beautiful Vancouver, British Columbia. Perhaps with COVID19 still rampant as of this announcement, the salmon analogy is not the best, seeing that they spawn and then die. Nonetheless, we have been patient, having already delayed this reunion once, and let's face it, we're not getting any younger. Our reunion team will plan the event with the understanding that COVID19 may still cause us to change dates and venues, and the final decision will be made sometime this spring.
Assuming that we will be able to gather, this reunion promises to be the best one yet. The 2020 reunion in South Africa hosted by Sharon and attended by over 40 alumni and friends just as the pandemic started, reminds us that we are a special group with many bonds that tie us together 40 to 50 years after we attended that little school in Bluche-sur-Sierre. We will sing and dance, we will go on our 'promenade obligatoire', enjoy a dinner/soiree, have a picnic, visit local vineyards and much more. We will remember old friends and renew friendships. We will rejoice having survived the pandemic. We will appreciate how far we've come and we'll celebrate like never before.
Like in past reunions, some of us will want to stay longer in Vancouver (September is a great month to sightsee in and around the city). Some may also want to travel around in the area after the reunion (Whistler/Blackcomb Resort, Alaska, Seattle, Banff). If you want to spend additional time in the area after the reunion, please talk it up among your friends and let us know.
Please make an effort to come to this reunion. We are staying at the wonderful 4-star Sheraton Wall Center Hotel in downtown Vancouver, less than 1 km from all the major attractions. This venue will serve as our official reunion headquarters, where we will host the reception and soiree. If you prefer to stay at another hotel we kindly ask you to make those arrangements yourself.
If you are a member of Friends of Bluche you should have received an email in May with all the details you need to book your room at Sheraton. If you are not, please sign up as a member and then send an email to reunion@friendsofbluche.com and we will send you more information.
Some things you need to do now:
Book your stay at Sheraton – or elsewhere.
Send information to fellow alumni who may not see this so that we can have the largest gathering of LR/PF alumni in Vancouver.
Make sure you have paid your dues so that we can continue to operate as an alumni organization.
We look forward to celebrating with you in Vancouver, until then, please stay safe and enjoy!
Sincerely, The Reunion Committee
Susan York, Sharon Taylor Baumann, Mikael Bengtson, Tom Ventser, Katy Jackson Cantor, Pradeep Kapadia, Thierry Coche and Alfie Eu
Feel free to contact us if you have any questions!
Vancouver Reunion Attendees as of September 4, 2022
The alumni below has registered for the reunion and are ready to go:
Aidan Ballantyne
Alice Allen
Annie Bengtson & Mikael Bengtson
Bettina Ottenstein
David Ensner
Debra Duke & Richard Duke
Diane Skagfeld
Donna Runge
Ed Trevisi & Rose Trevisi
Eric J Polson
Kathy Kay Golding
Howard Campbell
James Stiles
Jim Kay
Joanne Dipastena
John Boone
Judith Wilde
Karina FitzPatrick
Katy Cantor
Kim Campbell
Laurie Rodarty Ehrich, Tim Ehrich, Isabel Ehrich & Matt Sabens
Laura Mills Akhavan
Lizette Ottensten
Lori Fredenberg & Virgil Fredenberg
Lori Fisher & David Rennick
Martha Fouts
Marti Mattia
Melanie Friesen
Mitchell Abbey
Nancy Moore
Paul & Marie Wirth
Pauline Rømer
Pradeep Kapadia & Trey Pritchett-Randall
Susan Sturgis & Robert Sturgis
Rod Tatham
Rory Campbell
Ross Povenmire
S C Lok
Susan Povenmire & Berwick Drews
Susan York
Thierry Coche & Claire Coche
Tom Ventser & Nancy Atkins
Ursula Schlaepfer
The following have booked the hotel, but not registered yet:
Alexandra Couvaras
Gertrude West
Melinda Smale